GUIDED TOURS FOR 8
​
If you prefer to relax 100% during your stay at Thornebridge we have some guided tour packages. Each option is an exclusive tour for your group of 8 with some places opening just for your enjoyment. Yes we have in some instances organised with the winery for an exclusive tour for you. In one case we may be able to organise a chef just for your group booking.
​These tours are only available for 8 people.  The Tour Options are listed below.
​We can tailor the tour to your individual requirements and or perhaps include another destination of your choice.
All tours include 2 course lunch with paired glasses of wine , wine and food tastings/tours , cheese and local produce platters at select wineries.
​The price for all tours for 8 people is the same no matter which tour option you choose $3,300.
​All tours must be paid for in advance via direct debit.
Your itinerary for the 2 days will be :
Stay @ Thornebridge Murchison Friday night arrive any time after 2pm with complimentary champagne on arrival

Dinner at the Caledonian Hotel Murchison 47 Stephenson Street Murchison – meals are good , service good , warm pub atmosphere , 100m walk from Thornebridge ( meals only included in the package)

Yummy light brekky @  Thornebridge

Guided Tour

Dinner @ Bank Street Wood Fired Pizza Avenel 5 Bank Street Avenel – Wow great pizzas , funky surrounds and great outdoor eating in summer , distance is 43km or 30 minute drive

(

meals only included in package

)

Stay @ Thornebridge Murchison Saturday night

Picturesque late brekky @ Penelopes Kirwans Bridge 82 Kirwans Bridge Road Kirwans Bridge www.kirwansbridgeestate.com.au , distance 17km or 15 minute drive and its on the way back to Melbourne

Check out 11am
Strathbogie Tour
The Strathbogie Ranges are separated by the Goulburn and Broken rivers , are about 150km north east of Melbourne and rise to 1.033m at Mt Strathbogie.
You can relax and enjoy the hilly country side on this tour.
From Murchison we travel about 30 minutes for a lovely morning tea at Fare Enough Café in the quaint town of Euroa. Fare Enough make quality healthy allergy sensitive light meals in a relaxed family atmosphere.
We then head off for a morning walk through Ned Kelly country to Gooram Falls in the Strathbogie Ranges. Gooram Falls is a pretty series of 2 cascades in Seven Creeks and is rather spectacular after heavy rain  
We will casually make our way through some of the region's best boutique wineries stopping for a private lunch in one of these beautiful settings ,be welcomed and looked after exclusively by the passionate owners of these beautiful wineries.
Depending on availability the winery options include :
Maygars Hill ,

Box Grove Vineyard ,

Elgo Estate ,

The Falls Vineyard ,

Longwood Wines ,

Garners Heritage Wines or

Fowles Wines.

On our way back to Thornebridge Murchison we will visit the most incredible collection of crystals and gems at the unique Rockery Museum in Longwood.  Let Maurie take you on a tour of his astounding collection of minerals, fossils, gems and crystals… and if Holden cars of any interest… you will be blown away by his collection and knowledge the iconic Australian motor company!
Nagambie Winery and Mansion Tour

The Nagambie Region is well suited to viticulture being close to the Goulburn River and being inland ensures high seasonal temperatures.  The beautiful historic timber buildings and cellar of Tahbilk are a must see.
On this tour you will taste your way through the regions wine and taste some yummy produce.
 We will visit 2 of our most well-known wineries in the region – Tahbilk built in 1860 and Mitchelton built in 1969.
 At Tahbilk we will take a private tour of the old cellars , learn about this family owned winery rich in history and tales of struggle and triumph.  At Mitchelton we will indulge in the impressive selection of wine and fine chocolates at Mitchelton's chocolate factory then stroll over to the cellar door for a private wine tasting.
​Lunch will be at either Tahbilk or Mitchelton depending on availability.
After lunch we will stop for another wine tasting at one of the local boutique wineries depending again on availability eg
Goulburn Terrace ,

Tar & Roses ,

Burramurra Wines ,

Box Grove Vineyard or

David Traegar.

Finally we will step back in time at Noorilim Estate. Noorilim was built in 1879 by William Irving Winter , is one of the grandest homesteads ever constructed in Victoria , listed by the National Trust and is a grand example of the influence Victorian pastoralists had on the Victorian economy. We will tour the mansion adorned with original Australian art pieces and antiques, then stroll around the historic extensive gardens
​After the Noorilim tour we will make our way back to Thornebridge. 
Seymour Winery Tour

The selection of wineries in Seymour include :
Wine x Sam ,

Somerset Crossing Winery ,

Brave Goose Vineyard ,

Kensington Rocky Passes Vineyard and

Antcliffs Chase Wines, any

We will visit some of the regions boutique wineries depending on availability , meeting the owners and passionate wine makers for tastings and tours.
Lunch will be at one of these beautiful wineries or at the Brewers Table Café Seymour where you can try one or many of the variety of beers on offer, local wines and local produce.
 We will tour a working winery at Wine x Sam located in the old wool dying factory in Seymour.  Sam's wife Bronwyn will walk us through the extensive processes of wine making, from the time the grapes are picked to making its way into your glass.  Finishing up in their newly built Cellar door.
After the tour at Wine x Sam we will make our way back to Thornebridge.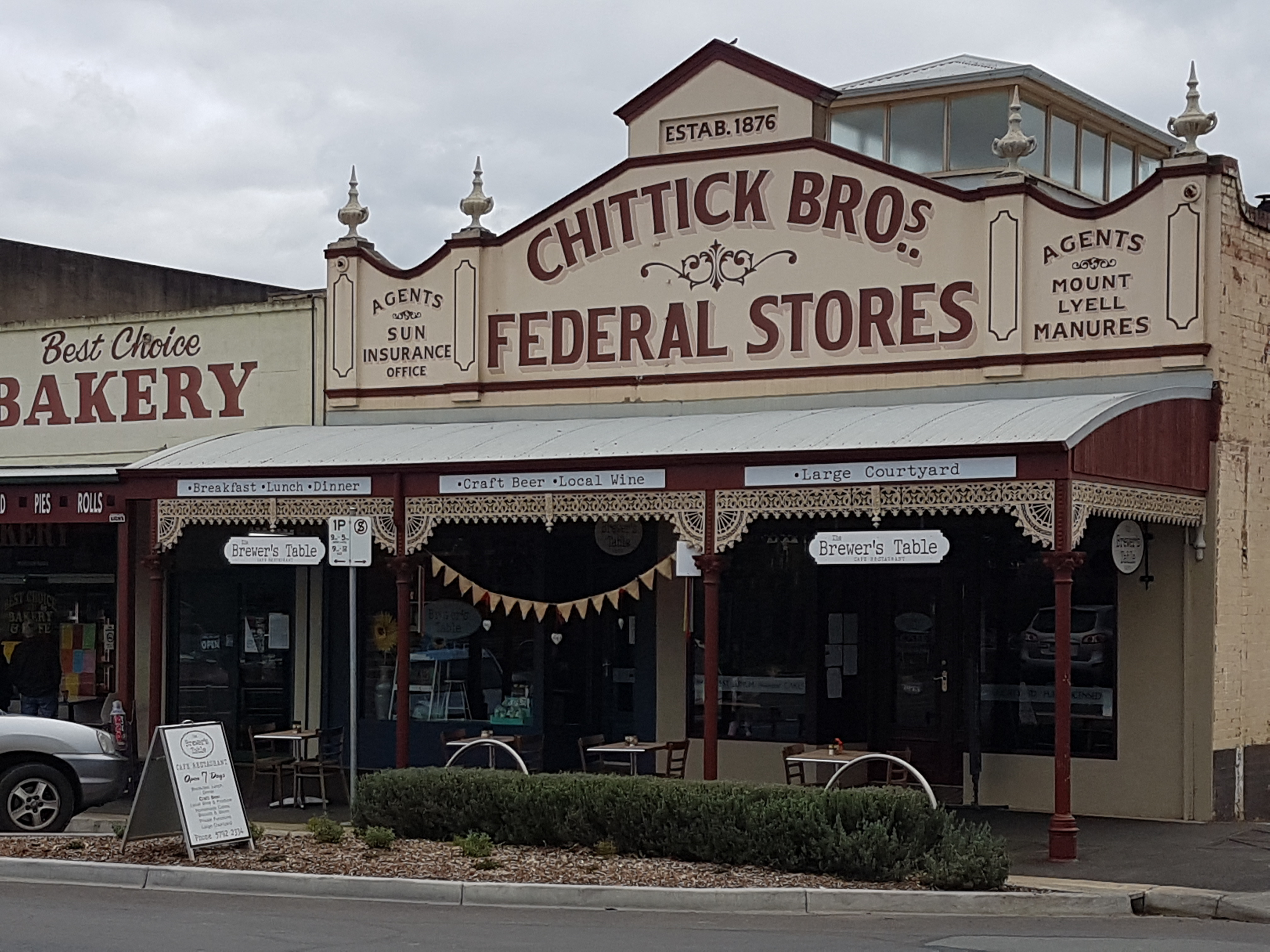 Shepparton Region Wine & Cheese Tour
Taste your way through the array of wine and food produced in this rich farming region.
Depending on availability we will visit the regions wineries ranging from :
Longleat – Murchison ,

Monichino Wines-  Katunga ,

Tallis Wines – Dookie ,

Broken River Vineyards – Kialla ,

Ulupna Winery – Strathmerton or

Cheeky Grog Cider – Shepparton.
 
Enjoy a cheese tasting at Vazzoler Cheese in Murchison and purchase some cheese and wine to take back to enjoy on the balcony of Thornebridge.
​Lunch will be at either Tallis Winery , Broken River Vineyards or Monichjno Wines depending on how the wine tastings go and what area of the Shepparton region we end up in.
If interested we can visit :
Dookie Antique Emporium and Café

How Now Dairy Farm in Wunghnu the ethically run dairy farm and meet these happy dairy cows and their calves.

At the completion of the tour we will make our way back to Thornebridge
When you submit a request to book a package we will contact you to discuss and confirm your booking.
If you would like to ask questions about a booking please enquire via the contact page