Clare O'Reilly and Tim Linton welcome you to Thornebridge.  We are extremely proud after 21 years of renovating this Victorian gem with our own blood sweat and tears to say that it is finished and you too can enjoy , relax and feel the sole of this beautiful old building.
Heritage listed Thornebridge sitting gracefully on the banks of the Goulburn River was built in 1868 by Henry Thorne as a Commercial Travellers Inn. She was originally known as Thornes Bridge Hotel and Store , was renamed Gregory's Bridge Hotel and Store in 1895 which stuck despite many other owners until she was delicensed in 1969.
Today she has been transformed into historic luxury accommodation with an unrivalled opulent restoration back to a bygone Victorian era, lavishly furnished with Victorian antiques and adorned with magnificent period lighting. The detail in the decoration of full wall stencilling , hand painted cornices and friezes , wood graining of all the timber and marbling of columns and baths is just mind blowing.
The building commands centre stage nestled behind a magnificent heritage listed London Plane tree on eight acres of river flats adjoining the Goulburn River with beautiful Victorian gardens. The London Plane tree was planted in 1913 is the 4th biggest in the state behind one in the Melbourne Club , Harrietville and Kyabram.
Each queen room offers luxury, space, privacy, quality linen, fluffy soft pillows , ducted air conditioning / heating , full ensuites and will transform you into a forgotten time that you will not experience anywhere else. A kitchenette for a cuppa and 6 open fireplaces in various rooms make this a relaxing place to stay.
Thornebridge is ideal for that special occasion, an escape for the weekend, a weekend away with that special group of friends or family or just an excuse to get away.
Situated just 90 minutes drive north of Melbourne , 100m from the Murchison township and is the ideal place to relax and enjoy a monument to a lavish extraordinary period.
Breakfast is available on request @ Wagner Brothers Café Murchison only 100m walk down the road.
Why is Thornebridge Heritage listed?

Thornebridge is a historic symbol of the importance of hotels in a late nineteenth century community , a substantial reminder of the importance and influence of commercial travellers and the Commercial Travellers Association in Victorian society.
Thornebridge is of architectural, aesthetic and historical significance to the State of Victoria.  It is of architectural significance as a representative example of a substantial two-storeyed brick country hotel with stables of the 1860s with cast iron decorative panels to the return verandah.  
It is of historical significance as an example of a substantial country hotel, stables and general store built in the 1860s catering to commercial travellers and tourists.
Murchisons Claim to Fame

Murchison is the oldest European settlement in the lower Goulburn Valley. Its recorded history began in 1838 when the first of many pastoralists Hawden and Bonney, traversed the site on their epic cattle droving journey to Adelaide. Prior to this, the land had been occupied for ages by the Ngurai-illum tribe of Aboriginals. In an attempt to avoid conflict between the two races of people an Aboriginal Protectorate was set up. The system had failed by 1854, when the township was surveyed and named.
​A reliable river punt crossing, then the first town bridge built in 1871 ensured the future growth of the town. Construction of the Trust pumping site near the town in 1885 and later the Goulburn Weir saw the beginning of irrigation. Many civic-minded residents worked to build a vibrant community in the ensuing years and many of its son's left for active service in the World Wars. During World War 2 the town serviced nearby Prison Camps.
​Murchison gained notoriety in 1969 when an ancient meteorite now known as the Murchison Meteorite, fell on the town. Many substantial facilities for sporting and cultural pursuits have been developed in the town through the years due to the efforts of dedicated and community minded residents. Today, Murchison, although small with a population of 700 continues to be a desirable residential town with a strong community spirit.  
Thanks to Murchison Historical Society Murchison for this transcript
A little bit more about Thornebridge

​Thornebridge is listed on the Victorian Heritage Register and was built in 1868 as a Commercial Travellers Inn by a local business man Henry Thorne. Commercial travellers were picked up by the properties horse and buggy at the Murchison East Railway Station to transact their business in the lounge. They were served a drink from the tiny bar in the lounge , slept over night in a tiny room and were carted off the next day to the next town to do the same thing. What a life.
​Thornebrdige was built in 3 stages : the main east / west building you see from the road was built in 1868 by Henry Thorne and it was called Thornes Bridge Hotel and Store. The second stage in 1895 was an inbuilt kitchen and licencees sitting room at the rear facing north / south which was built by the second owner Edward Gregory who also built the verandah at the front and the final stage was bedrooms above the kitchen are in 1905.
The property was known as the " mecca of the valley " due its extensive vegetable and fruit garden along the banks of the Goulburn river and as it peaks employed up to 28 people. Thornebridge in 1909 was said to be easily the best Hotel in the Goulburn Valley.
The Restoration
The Victorian period of architecture / decoration used all sorts of trickery to create a level of luxury in the finishes we can only dream of using in our houses today. Thornebridge has been restored to such an exacting standard and level of luxury you will not see anywhere else , not to mention stay overnight in.
Clare and I have worked for 21 years to restore this delightful Victorian building. When we purchased Thornebridge it was derelict , you could just walk in and have a look. All fire mantles and doors had been stolen , most of the downstairs floor and some upstairs has been stolen , part of the staircase had been stolen , sections of the roof had collapsed , the front verandah was falling away from the building , the stumps supporting the main beam in the cellar holding up half the house were not touching the ground , there was dry rot everywhere in numerous bathrooms, lathe and plaster walls were falling to pieces , and the building had every known species of vermin living in it. All materials used to restore Thornebridge were sourced second hand , picked up and installed with our own bare hands.
The sorts of things we undertook were :
Repaired 36 external windows and 12 external doors

Replaced all the stumps , joists , bearers and floor boards downstairs

Rebuilt the front and east verandah's that were falling away from the building

Sourced or made 6 fire mantles

Repaired lathe and plaster walls and ceilings

Replaced half the roofing iron , all the spouting and downpipes

Demolished horrible poky little wash rooms and replaced with ensuites

All walls have been covered in a special fibreglass from Switzerland which flexes with any small movement in the walls and stops any surface cracks

Stripped all the paint from the facade and east side of the building

Enclosed the rear verandah and knocked out some walls to form a large kitchen / living area

Replaced all wiring and water pipes

Installed 6 six foot massive cast iron baths

Built a new verandah on the back of the building and massive pergola on the west

Stripped the staircase to reveal the beautiful Tasmanian blackwood
Repaired a massive chunk of external brickwork damaged by rising damp

Replaced all the lighting with Victorian decorative lights , some original and some new

Reinstated the wood grained finish to all the timber

Painted all walls and ceilings in various finishes , some with full wall stencils

Installed ducted air conditioning throughout the whole building

Millions of other things big and small I have forgotten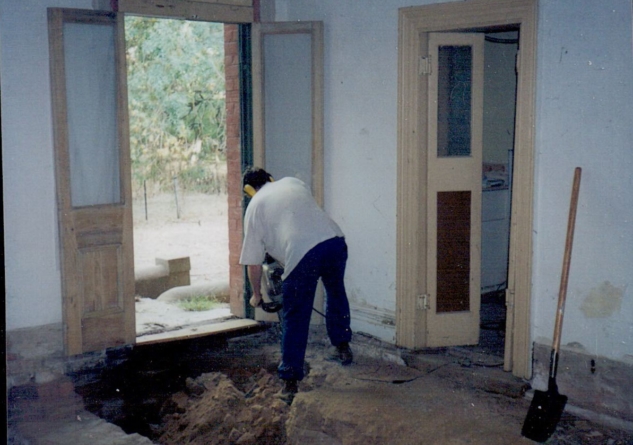 We would like to thank all the people who have helped us along the way in our quest. We would especially like to thank Derek Marvelley who spent 9 months with us wood graining all the timber and advising / assisting us with all the internal finishes. Derek is a national treasure with his knowledge , skill and patience. Thankyou Derek.
Thornebridge is now open for you to appreciate all this work through accommodation , tours , weddings or special pop up events throughout the year.
The Custodians of Thornebridge
Thornebridge has had 10 owners since 1868 and will be 150 years old in 2018.
The former custodians of Thornebridge : 
1868 – 1893
Henry Thorne was born in 1832 in England and emigrated to Australia in 1853 on board the " Sarah Bell". Henry was in his early year in the Victorian gold fields. He must have made some money on the goldfields because he became a storekeeper in the Commercial Hotel Murchison in 1872 , built Thornebridge Hotel and Store in 1868 , owned many businesses in Murchison and Rushworth and would eventually take up farming in his later years. He held a seat for 3 years on the Shire of Goulburn , advocated for a new higher road to Murchison East , married twice and died in 1911.
1893 – 1903
Edward John Gregory
Edward came to Murchison in 1871 and over the following 60 years became involved in just about every organisation in town and subsequently became known as the old man of Murchison.  Edward purchased the property in 1893 and sold it in 1903.
On his 80 th birthday 14 th April 1933 he invited members of the Fathers of Soldiers Assocation to a smoke night , who would have thought. Edward died in 1937. Edward made such an indelible impression on the property that many people still today refer to the building as Gregorys Hotel.
| | | |
| --- | --- | --- |
| 1903 | David Ewart, John Atkinson & Jane Frettejohn | |
| 1937 | David Alexander Duggan | Murchison |
| 1938 | William Layshon | Werribee |
| 1940 | Ann Isherwood | Pascoe Vale |
| 1965 | Jean Margaret & Donald Crawford Lindsay | Red Hill |
| 1970 | Annette Agnes & John Walter McKinnon | Greenvale |
| 1971 | Gerald George Alexandratos | Melbourne |
| 1996 | Clare Maree O'Reilly & Timothy Ian Linton | Glen Waverley |
THORNEBRIDGE – VICE REGAL TIES
Thornebridge Murchison has been honoured to have 1 Governor General and 3 Victorian Governors
visit its establishment since opening its doors in 1868.


Richard Gavin Gardiner Casey ( Governor General 1965 – 1969 ) visited in 1908

Sir Thomas David Gibson Carmichael ( Governor 1908 – 1911 ) visited in 1908 , 1911 , 1912

Sir John Michael Fleetwood Fuller ( Governor 1911 – 1913 ) visited in 1911

William Charles Arcedeckne Vanneck 5 th Baron Huntingfield ( Governor 1934 – 1939) visited in1937
In 1908 Richard Casey visited with his family as an 18 year old and was referred to as R G Casey Jnr in our visitors book. Here's a bit of his family history to put you in the picture.
​
Richard Gavin Gardiner Casey, Baron Casey KG, GCMG, CH, DSO, MC, PC (29 August 1890 – 17 June 1976) was an Australian statesman who served as the 16th Governor-General of Australia,( 1965 –1969 ) in office from 1965 to 1969. He was also a distinguished army officer, longserving cabinet minister, Ambassador to the United States, member of Churchill's War Cabinet, and Governor of Bengal.
Cornelius Gavin Casey (1811-1896)

Cornelius Gavin Casey (1811-1896) arrived in Van Diemen's Land in 1833 as a surgeon on the immigrant ship Sir John Rae Reid. Immediately appointed assistant colonial surgeon, he was posted to Port Arthur from 1834 to 1838. Until 1863, when he moved to Victoria, Casey lived at New Norfolk, Hobart and Launceston. He worked for the Hobart General Hospital and for the gaol and police at Launceston, as well as in private practice.  Casey invested in land in northern Tasmania, and from Victoria in the 1880s he also backed mining ventures in the Zeehan area.
Casey was made a justice of the peace soon after his arrival in Australia, was a member of the Licensing Court in Hobart, and a leading figure in local institutions, particularly in Launceston. On several occasions he relinquished his official duties to take up private medical practice.
Richard Gardiner Casey (1846-1919), son of Cornelius Gavin Casey, was born at New Norfolk near Hobart. He moved with his father to Victoria in 1863 and worked at Murray Downs Station (near Swan Hill) and other properties as an overseer. From 1875 to 1883 he managed Kilfera station in central western New South Wales. He later became a managing partner of several stations in central Queensland as a result of agreements with Donald Wallace, and represented Warrego in the Queensland Legislative Assembly from 1888 to 1893.
A new phase of Casey's life began in 1893 when he moved to Melbourne and became involved in mining and business ventures ranging from the Coolgardie goldfields to the Mt Morgan Gold Mining Company and Goldsbrough, Mort and Company. Always interested in racing, he was chairman of the Victoria Racing Club from 1907 to 1916. During World War I Casey and his wife went to London to be closer to their two sons who were on active service in France. He died in Honolulu in 1919 while en route back to Australia.
​
Richard Gardiner Casey (1890-1976), the oldest son of Richard Gardiner Casey (Senior) was born in Brisbane but educated in Melbourne and at Trinity College, Cambridge. He served with distinction in the A.I.F. during World War I. After five years in mining engineering he became in 1924 the Australian government's Liaison Officer in London. In this capacity, he worked on the implementation of aspects of the Balfour Declaration of 1926 and the Statute of Westminster.  Casey entered Australian federal politics in 1931 as Member for Corio in the House of Representatives. He became Federal Treasurer in 1935 and later Minister for Supply at the start of World War II; during the war he went first to Washington as Minister Plenipotentiary in 1940, then to London to join the British War Cabinet as Minister for State on the Middle East.
As the war years were finishing Casey remained involved with British administration as Governor of Bengal (1944-1946) where he took drastic measures – among them, dismissing the ministry and legislature – in an attempt to improve that State's severe political and economic problems.  He returned to Australia and re-entered federal politics in 1949 as the MHR for Latrobe. This second phase of Casey's Australian political career was dominated by his term as Minister for External Affairs from 1951 to 1960. A firm believer in Australia's role as an independent nation in the Asian region, Casey made many overseas trips while in office and was involved in numerous conferences and consultations on matters including SEATO, the Colombo Plan, ANZUS, and regional co-operation in general. He was actively concerned with Australian relations with the United States. During his decade as a foreign affairs minister Casey was also the minister responsible for the CSIRO.  
Casey resigned from politics in 1960 to become the first life peer created outside the United Kingdom. As Lord Casey of Berwick he held the office of Governor-General of Australia from 1965 to 1969; at the end of his term he was made a Knight of the Garter.
Sir Thomas David Gibson Carmichael, 1st Baron Carmichael of Skirling (1859-1926), Governor of Victoria ( 1908 – 1911 ) visited Thornebridge in 1908 , 9 th July 1910 and 22 nd March 1911.
​
Sir Thomas David Gibson Carmichael, 1st Baron Carmichael of Skirling (1859-1926), governor, was born on 18 March 1859 at Edinburgh, eldest son of Rev. Sir William Henry Gibson Carmichael (d.1891), tenth baronet, and his wife Eleanora Anne, née Anderson. He was baptized in the Church of England, but had strict Presbyterian training. At school in Hampshire, England, his devotion to entomology and scientific discovery received every encouragement. He entered St John's College, Cambridge, in 1877 (B.A., 1881; M.A., 1884); his second-class in history reflected parental direction, not natural bent.
​
A Liberal, he became in 1886 private secretary to two successive secretaries for Scotland in
Gladstone's third administration. His reserved manner concealed what his friend Sir Edward
Grey described as 'the acutest brain in Europe'. Intelligent, curious, self-deprecatory,
compassionate, with a gift for friendship, he was not eloquent and no politician, though he
succeeded Gladstone as member of parliament for Midlothian (1895-1900).
In 1908 Sir Thomas Carmichael was appointed governor of Victoria: to this post, which he took up on 27 July, he brought both his farming skills (he was a breeder of polled Angus cattle) and his artistic taste as a collector and connoisseur. He was happiest visiting country areas, where he demonstrated his dry wit: forced to speak on one occasion, he referred to a Scottish tombstone of an infant inscribed 'I expected to be called, but not so soon'. He cut down on overlapping ceremonial between himself and the Melbourne-based governor-general but he enjoyed purposeful ceremonial, as in the rituals of the Church and Freemasonry.
​
In 1886 Carmichael had married Mary Nugent, niece of the second Baron Nugent; they had no children. In Victoria Lady Carmichael took an interest in kindergartens, arts and crafts training, the Bush Nursing Association and the Victoria League. Both she and her husband promoted art education. He exhibited from his excellent collection, which included water-colours by Turner and Constable.
Carmichael made two important constitutional decisions. He granted a dissolution of parliament to the premier Sir Thomas Bent, who had been defeated on 3 December 1908 in a no confidence vote. Bent, confident of popular support, lied to Carmichael about cabinet unanimity for dissolution and about financial resources for payments till the next parliament met. Carmichael, conscious of his duty to take advice from the premier, was misled. He did not ask the opportunist John Murray to form a government and did not exhaust other alternatives, a point that was clearly made by The Times (8 December 1908). Carmichael was supported, however, by the colonial secretary Lord Crewe. Bent failed to win enough support at the election and Murray became premier.
​
Carmichael's second important constitutional decision related to the 1909 royal commission on Bent's alleged misuse of ministerial influence to make a personal profit. On 5 July the governor refused a request to allow ministers to disclose to the commission cabinet discussions about land issues, emphasizing the necessity for preserving cabinet secrecy.
Carmichael left Melbourne on 29 May 1911 to become governor of Madras. In April 1912, as first Baron Carmichael of Skirling, he was appointed governor of Bengal. He left India in 1917.  Survived by his wife, he died in London on
​
Sir John Michael Fleetwood Fuller visited Thornebridge 30 th August 1911 whilst travelling around the district visiting the new Goulburn Weir and Murchison Primary School.  After the children completed singing the national anthem the Governor gave a short speech and declared the kids were to be granted a half holiday for the rest of the day. The cheek of him.
Sir John Michael Fleetwood Fuller, 1st Baronet KCMG (21 October 1864 – 4 September
1915) was a British Liberal Party politician and colonial administrator.
​
Fuller was the eldest son of George Fuller, of Neston Park, Corsham, Wiltshire, and his wife
Emily Georgina Jane, daughter of Sir Michael Hicks Beach, 8th Baronet, and was educated at Winchester and Christ Church, Oxford. He unsuccessfully contested Parliament three times but in 1900 he was successfully returned for Westbury. He served under Sir Henry Campbell-Bannerman as a Junior Lord of the Treasury from 1906 to 1907 and under Campbell-Bannerman and later H. H. Asquith as Vice-Chamberlain of the Household from 1907 to 1911.  He was created a Baronet, of Neston Park in Corsham in the County of Wiltshire, in 1910.  The following year Fuller resigned his seat in the House of Commons on his appointment as Governor of Victoria.  He remained in this position until his resignation for health and family reasons in November 1913. He had been made a Knight Commander of the Order of St Michael and St George (KCMG) in the 1911 Coronation Honours.
​
Fuller married Norah Jacintha, daughter of Charles Nicholas Paul Phipps, in 1898. They had
two sons and four daughters. He died in September 1915, aged only 50, and was succeeded in the baronetcy by his eldest son Gerard. Lady Fuller later remarried and died in 1935.
William Charles Arcedeckne Vanneck, 5th Baron Huntingfield, KCMG (3 January
1883 – 20 November 1969) visited Thornebridge in 1937. He was a British Conservative Party politician, Governor of Victoria and Administrator of Australia. He was the first native-born governor of an Australian state.
​
On 30 th march 1837 The Governor of Vic Lord Huntingfield visited Murchison to opened the new Murchison iron bridge across the Goulburn river. He enjoyed a lunch at Gregorys Bridge Hotel before going off to present the trophy to the winner of the main race at the Dargalong and Murchison District Turf Club to the " Back to " race meeting
​
Born in Gatton, Queensland, he was the son of Hon. William Arcedeckne Vanneck and Mary
Armstrong. He was educated at Wellington College, Berkshire, whereafter he joined the
13th/18th Hussars reaching the rank of captain. He succeeded his uncle in 1915 as 5th Baron
Huntingfield of Heveningham Hall and 7th Baronet Vanneck of Putney.
​
He married American born Margaret Eleanor Crosby (d. 1 March 1943), the daughter of
Ernest Howard Crosby and Fanny Kendall Schieffelin.  From her paternal grandmother
Margaret Evertson Givan, Crosby was descendant from Dutch, French Canadian and
Scandinavian ancestors who settled in North America.
William Charles and Margaret Eleanor had four children:
Hon. Sara Carola Vanneck (25 September 1913 – 2001), married Major David Arthur Peel in Melbourne, Australia on 14 April 1936. He was a grandson of Arthur Peel, 1st Viscount Peel and died in action in World War II in September 1944. 

Gerald Vanneck, 6th Baron Huntingfield (1915–1994)

 Hon. Anne Margaret Theodosia Vanneck (20 May 1918 – 2000), married Peter Moro, the architect, on 2 March 1940 and had issue; divorced 1984.

 Hon. Sir Peter Vanneck (1922–1999)
Between 1923 and 1929 he was member for Eye, Suffolk in the Parliament of the United Kingdom. He was successively Parliamentary Private Secretary to the Parliamentary Under-Secretary of the Home Office 1926–7, and then to the President of the Board of Trade
between 1927–8.
​
In 1934 Lord Huntingfield became the Governor of Victoria, Australia, being the first Australian-born governor of an Australian state (although he was always considered British).  (Despite this, Victoria was the last of the states to appoint an Australian as governor, Sir Henry Winneke in 1974.) His term expired in 1939. He served as Administrator of Australia between March 1938 and September 1938.
Although he was offered the post of Governor of Southern Rhodesia in 1942, he did not take up the position due to ill-health. 
He was a freemason. He was initiated to the craft in 1919, in the United Lodge No. 1629. He became a member of the United Service Lodge No. 330 in Victoria as a Past Master in 1934.  Shortly after that, in 1935, he became Grand Master of the Grand Lodge of Victoria. After his
return to England, in 1940, he was appointed Senior Grand Warden of the United Grand Lodge of England.
​
He was invested as a Knight Commander, Order of St Michael and St George in 1934. He was Colonel of the 58th Battalion, Company of London Home Guard during World War II. He was given the rank of Honorary Air Commodore in No. 21 (City of Melbourne) Squadron, Royal Australian Air Force. Finally he was invested as a Knight of Grace, Order of St. John of Jerusalem.
​
His first wife having died in 1943, he married Muriel Mary Georgina Duke (d. 13 May 1953)
and had one daughter. Huntingfield died on 20 November 1969 at Hove, Sussex.
The London Plane Tree
The London Plane Tree has outstanding form, size and branch structure, and is one of the finest and largest London Plane trees in Victoria. The only larger trees known in Victoria occur at The Melbourne Club, Harrietville, and Kyabram.
It was planted in 1913 by Edward Gregory who owned Thornebridge at the time. The Plane Tree was sent by Mr Tom Cummins from The Argus.  A tin plate was placed on the tree some years later with the inscription :
​The Tom Cummin Tree
Oriental Plane Tree
Planted 1913
​The plaque has been over grown by the tree and is in there somewhere. There was some conjecture as to whether the tree is an Oriental Plane Tree or a London Plane Tree.  However when the tree was listed by Heritage Victoria as a State Historic Tree it was confirmed as a London Plane Tree.
​It is said to have flourished because there was a water trough at it base for years where the tree got watered and fertilised on a daily basis and once its tap root reached the watertable it took off. It too is listed on the Victorian Heritage Register.